Flippin to a Cure is involved in many community events throughout the year. These educational and fun events are held to raise awareness on the importance of self-breast exam screenings, early detection, treatment options and connections to resources to help women who are uninsured or underinsured. We understand that if breast cancer is caught in the early stages, success for recovery is increased dramatically.
October 5, 2014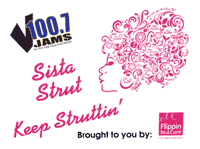 Flippin to a Cure Joins Fox 6 and V100.7 in the 3rd annual Sista Strut Walk at Estabrook Park
Dr. Regina Flipppin, breast cancer survivor and founder of Flippin to a Cure and her staff joined Fox 6's Mary Stoker Smith for the 3RD annual Sista Strut Walk. The walk was designed to help African American women understand the importance of self-screenings, early diagnosis and promote fitness. Urban Foot Center sponsored the event, handing out educational and support materials. All guests received a special gift bag with gift cards, toiletries and more donated by Urban Foot Center.
October, 2014
Exquisite Threading hosts clinical breast exam screenings at their Glendale, WI location.
Exquisite Threading, a local Milwaukee business hosted free screenings for 45 woman. The event was sponsored by Flippin to a Cure. Woman were taught how to perform proper self-breast exams and a nurse practitioner was on hand to administer clinical breast exams.
October, 2013 and 2014
Christian Faith Fellowship Church
Dr. Regina Flippin shared her inspirational story on surviving breast cancer at an educational forum held at Christian Faith Fellowship Church. Guests attending were given educational literature and pink cancer ribbon pins donated by Dr. Flippins practice, Urban Foot Center.
October 20, 2013
Knocking Out Breast Cancer, Rockin the Runway Against Cancer Fashion Show
Renowned fashion designer and cancer survivor Barbara Bates joined Flippin to a Cures Founder and fellow cancer survivor Dr. Regina Flippin for a fun filled night of fashion and entertainment. Proceeds raised funded breast cancer outreach and education programs for Froedtert & the Medical College.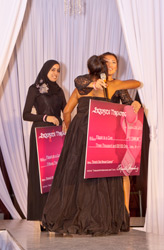 Exquisite Threading, a local area business presented two checks valued at $22,000.00 to Flippin to a Cure at the 2013, Knocking Out Breast Cancer, Rocking the Runway Against Cancer Fashion Show.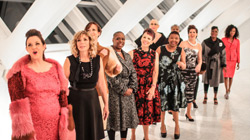 Breast cancer survivors model Barbara Bates special collection, designed exclusively for the event.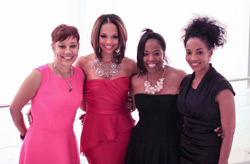 From left to right-Designer Barbara Bates, Host, Pat Smith, Flippin to a Cures Founder, Dr, Regina Flippin and Christian Faith Fellowship Church Pastor Pam Hines.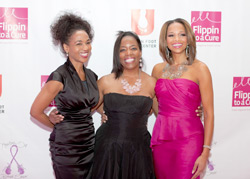 From left to right-Pastor Pam Hines, Dr. Regina Flippin and Host Pat Smith gather prior to the start of the fashion show.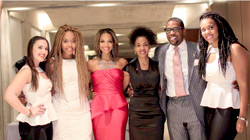 Back-up singer from Michelle Chrisette's band, Entertainer Michelle Chrisette, Host Pat Smith, Pastor Pam Hines, DJ Hines and singer gather to support and entertain guests at the fashion show and party.
Summer, 2013
Odyssey Network
Flippin to a Cure was a proud vendor at the Odyssey Networking event, providing educational information on triple negative breast cancer and instruction on self-breast exams to professional multicultural woman. Odyssey Network is a woman's networking group comprised of 350 affluent and influential business leaders that gather for workshops, business sessions and personal activities and share their stories to inspire others.