Flippin to a Cure is involved in many community events throughout the year. These educational and fun events are held to raise awareness on the importance of self-breast exam screenings, early detection, treatment options and connections to resources to help women who are uninsured or underinsured. We understand that if breast cancer is caught in the early stages, success for recovery is increased dramatically. Please mark your calendars for these educations and fun upcoming events.
September 12, 2015
Parklawn YMCA
United Healthcare is proud to sponsor a day long cancer screening and mobile mammography event at the Parklawn YMCA. Visitors can obtain FREE mammograms, healthy cooking tips, Cholesterol checks and educational materials. Visit us at 4340 N. 46th Street. Milwaukee, WI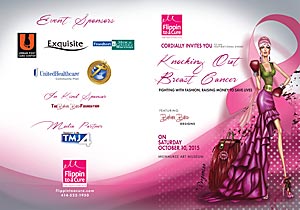 October, 10, 2015
Flippin to a Cure's Knocking Out Breast Cancer, Fighting For Fashion, Raising Money to Save Lives
Please join us on Saturday, October 10, 2015 for an evening of fun, fashion and music. Fifty breast cancer survivors will model exquisite fashions from renowned designer and breast cancer survivor, Ms. Barbara Bates. Featured entertainer, Naima Adedapo will be on hand to sing her latest recorded hits from Nashville. All proceeds benefit Froedtert & the Medical College of Wisconsin and educational and community programs to help breast cancer patients directly.
November, 2015
Exquisite Threading and Spa-Glendale, WI
Exquisite Threading and Spa will be hosting a free Mobile Mammogram screening at the Glendale location.
Stay tune for more details. Date to be announced soon!