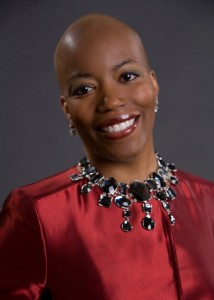 As a podiatrist in Milwaukee, I work very hard to help people stay healthy and on their feet.  Never did I think that I would be knocked off my own feet with a diagnosis of breast cancer.  Life is full of challenges, and I certainly had my share.
With dreams and hope for success, I was raised in a lower-income neighborhood of Memphis, Tennessee.  An ambitious spirit propelled me to achieve honors in high school and, later, pursue an academic career at Christian Brothers University where I obtained a Bachelor of Science degree in Natural Sciences and Respiratory Care in 1991.  Subsequently, I obtained a Doctor of Podiatric Medicine degree from Scholl College of Podiatric Medicine in 2000.   Now, I am the owner of Urban Foot Care Center and practice podiatric medicine in Milwaukee, Chicago, and the U.S. Virgin Islands, in addition to serving as medical director of Urban Foot Care Surgical Center.
The path to where I am now reflects one of my favorite quotes:
The measure of a man is not where he stands in comfort and convenience, but where he stands in times of trouble. ~ Dr. Martin Luther King, Jr.
Both of my parents passed away within one year while I was in high school.  As an undergraduate, I had to work three jobs at times.  Even during a full schedule pursuing my podiatry degree, I worked full-time as a respiratory therapist at Rush University Medical Center in Chicago.
My tenacity to fight for my dreams met it's ultimate challenge in 2010.  With a diagnosis of breast cancer, I was then fighting for my life.  It was after a fun-filled Labor Day weekend, when I felt a lump in my breast.  The lump was less than a centimeter in diameter, so I remained optimistic that  it was caught early and the outcome would be okay.  Unfortunately, even with no family history of cancer, I was diagnosed with the rare and deadly type of breast cancer called Triple Negative Breast Cancer (TNBC).
Triple Negative Breast Cancer gets its name from the fact that this type of breast cancer lacks one of the three protiens (estrogen, progesterone, and HER/2) found on most breast cancer tumors.  Therefore, it does not respond to targeted treatments and does not benefit from hormonal therapy.  TNBC can be treated with chemotherapy.  This disease is also three times more likely to occur in African-American women before the age of 40.  It is more aggressive and has a higher recurrence rate.
All my life, I've been an advocate for my own health and the health of others.  I really thought I was on top of things by getting yearly mammograms.  So when I was told on September 13th that I had TNBC, I was temporarily paralyzed and had to draw, once again, upon my inner strength.  The news ahead was devastating, but I remained positive.
A lumpectomy was performed to remove the tumor, followed by 6 months of chemotherapy.  The surgery showed that the cancer was also in my lymph nodes, elevating my diagnosis to a Stage 2A, Grade 3 status.  Throughout my treatments, I was so sick that I could only work occasionally.  At one point, I was at the hospital every day for IV fluids.  Eventually, I elected to undergo a bilateral mastectomy and was given a cancer-free diagnosis after chemotherapy.
At my side, showering me with love and support then and now, is my husband Eric Bland.  When my hair started falling out in clumps due to my chemo, I shaved my head.  What he told me was that my hair only hid my true beauty.  I am so blessed to have great friends and family who have all been equally supportive.
After my diagnosis, I became concerned about the health disparities that exist with triple negative breast cancer.  As a doctor myself, I had never heard of TNBC and learned that it was a disease no one was talking about.  This lead me to raise awareness of TNBC especially in under-served and under-represented communities.  Consequently, Flippin To A Cure® was birthed.
Not only a health crisis, this disease brings about a crippling financial burden to the people affected by it.  One of my shots alone cost over $3,000.  Who can afford that when you are sick and cannot work, I thought.  At-risk and low income women are having to make a choice between food and medical care.  This is why I decided to help others directly so that they can focus on the job of healing rather than the financial impact to their families.
As a spiritual person, I believe God puts us in the middle of things so that we can help others.
I believe that when God takes us through challenges, He is taking us TO something greater.
I've experienced this.  I've lived it.  I should've been a statistic, but I am not.  I am a breast cancer survivor.  Now, I am fighting to help save other women's lives.